Shear Haven Domestic Violence Training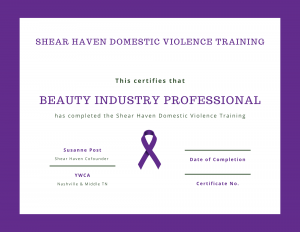 Why Domestic Violence Training For Beauty Industry Professionals?
Domestic violence is a public health crisis, at home and abroad. The global COVID-19 pandemic exposed the hidden pandemic of domestic abuse, and beauty industry professionals are in a unique position to combat both public health emergencies. BARBICIDE® is proud to partner with Shear Haven, a Nashville, Tennessee-based initiative that brings domestic violence awareness education to the worldwide beauty industry.
Shear Haven was created by YWCA Nashville & Middle Tennessee and volunteer Susanne Shepherd Post in 2017. Susanne is a survivor of domestic violence and a licensed cosmetologist and salon owner in Nashville. They are committed to educating the community and helping all victims of domestic abuse through Shear Haven. This effort extended to the passage of legislation in 2021 that requires anti-domestic violence training be taken by all licensed beauty industry professionals in Tennessee.
The Shear Haven training video equips stylists with:
Knowledge and resources to recognize the signs of domestic violence;
Guidance on how to successfully navigate conversations with clients who may be in danger;
Tools and resources that can help your client get to safety.
What's Included in the Training?
This training will consist of a 20 minute training session followed by a short quiz. After completion, you will receive a personalized certificate of achievement. Please keep the certificate for your permanent records.
Help Us Spread Awareness!
We encourage you to share your certificate on Instagram! Please tag: Founders @shearhavenywca, @ywcanashville, @susannespost, and training partner @barbicideblue to help spread awareness.