Discussing the importance of diversity and inclusion in the workplace.
Tune in to our latest discussion with Director of Education, Leslie Roste, BSN, RN and Janet Williams, Founder of Progressive Discoveries as they cover the importance of diversity and inclusion in the workplace.
Progressive Discoveries seeks to create a world that values diverse human experiences and welcomes all people to have a place to thrive while facilitating your company's desire to demonstrate its purpose and how people are valued at work.
They will help you start the conversations that matter to get to the heart of what your team needs to flourish.
About Janet Williams, Founder & CEO of Progressive Discoveries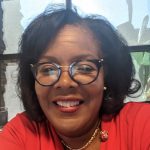 Founded by Janet Williams, Progressive Discoveries, LLC., is a strategic consulting practice that takes a culturally intelligent approach to fostering Diversity, Equity, Inclusion and Belonging (DEI-B) at work.
We provide Advisory & Coaching Services, A3 (Assessment, Audits & Analytics), Systemic Solutions and Education that encourages communication, learning and enhanced operational effectiveness pertaining to working with and providing services to people across nationalities, ethnicities, age groups, sexuality, gender expression and ability status.  We help organizations embed Culturally Intelligent (CQ), DEI-B behaviors into their DNA.  Janet has grown deep roots in the beauty space; having served a number of years as the Director of a prominent Cosmetology and Esthiology school in Washington, DC.
She also served as Sr. Director of Operations Education for a franchise hair salon & beauty products company, with over 1000 locations in US. In this role, she designed Operations, Leadership, Employee Life Cycle, DEI-B, Guest Service strategy, assessments, audits, surveys, curriculum and facilitated programs for salon owners, managers and team members.
Janet delivered her first diversity training session in 1998, which led to the initial founding of Progressive Discoveries. The company re-opened in 2019, and she is thrilled to revitalize her "no shame, no blame" approach to DEI-B work. The formula is simple: true diversity honors the value and contribution of every person, no matter what distinguishing characteristics they possess. In addressing these fundamental and sometimes sensitive concepts, leading from genuine acceptance and heart is always her starting point.
Janet is a Certified CQ & Unconscious Bias Facilitator through the Cultural Intelligence Center and also serves as a member of the Cultural Intelligence Committee with the "Unite As One" Beauty Industry Think Tank.
As a seasoned DEI-B, leadership and training professional, Janet and her team welcome the opportunity to meet you wherever you are on your cultural intelligence and DEI-B journey. Progressive Discoveries is introducing an exciting lineup of services and education for 2022 to help you meet the speed of people innovation and change at work.
Get in touch with Progressive Discoveries: