Become BARBICIDE® Certified Today
Demonstrate your dedication to providing safe services in the salon, spa or barbershop
Be Green. Recover up to 95% of your salon's beauty waste like hair clippings, foils and color tubes, while also becoming carbon-neutral.
REPAIR, RESTORE & REUSE with the Salon Chair Guys! Are you in need of salon or barber equipment repair?
Discussing the importance of diversity and inclusion in the workplace.
Welcome to BARBICIDE®
BARBICIDE® is perhaps the most iconic of all images in the professional beauty industry. It signifies a safe, clean environment for everything from a haircut to a pedicure.
All BARBICIDE® products are EPA Registered disinfectants, designed to meet the needs of state boards and assures consumer disinfection is an important part of your business.
Become BARBICIDE® Certified Today
Complete the FREE Course that takes less than an hour earning you a portfolio-ready certificate showing your dedication to infection control in salons, spas, and barbershops.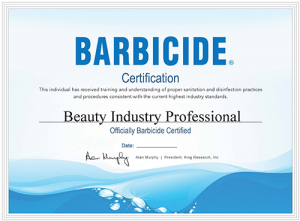 BARBICIDE® Products
To help you keep your salon, barbershop or spa clean and disinfected, we offer a full line of products specifically designed for the unique needs of the industry professional. In addition, many of our products have found uses in a broad spectrum of industries including healthcare, pet grooming, food service, hotels and childcare.