Become BARBICIDE® Certified Today
Demonstrate your dedication to providing safe services in the salon, spa or barbershop
Have you thought about starting your own professional beauty business? How do you even get started? What can you learn from others who have experienced success or failure? Click for more!
Salon Business Expert, Liz McKeon, brings the Shear Haven Domestic Violence Training to the UK.
Listen to hear how the U.S. Chamber of commerce can help your salon, spa or shop get back track during the COVID-19 pandemic.
Welcome to BARBICIDE®
BARBICIDE® is perhaps the most iconic of all images in the professional beauty industry. It signifies a safe, clean environment for everything from a haircut to a pedicure.
All BARBICIDE® products are EPA Registered disinfectants, designed to meet the needs of state boards and assures consumer disinfection is an important part of your business.
Become BARBICIDE® Certified Today
Complete the FREE Course that takes less than an hour earning you a portfolio-ready certificate showing your dedication to infection control in salons, spas, and barbershops.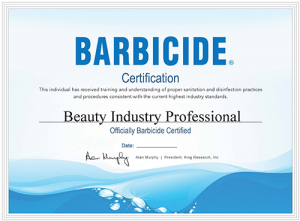 BARBICIDE® Products
To help you keep your salon, barbershop or spa clean and disinfected, we offer a full line of products specifically designed for the unique needs of the industry professional. In addition, many of our products have found uses in a broad spectrum of industries including healthcare, pet grooming, food service, hotels and childcare.